Shepherd's pie
by
The Batch Lady
- https://thebatchlady.com/r/3359/
Shepherds pie is a staple in our house. It is so easy to knock up in a hurry and perfect to have in the freezer for those busy evenings.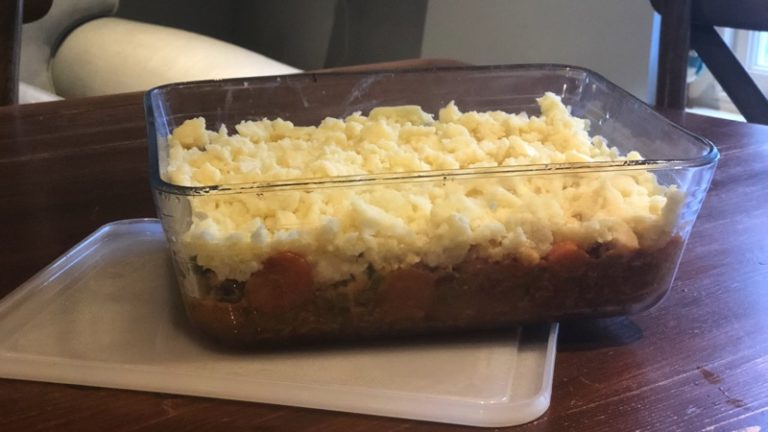 Ingredients
Frozen pre-chopped onions

1

cup

(

115

g

)

Frozen pre-sliced carrots

1

cup

(

70

g

)

Peas

1

cup

(

155

g

)

Fresh pre-cooked mash potato
Method
Heat the oil, add the onions and carrots. Cook until soft.

Then add the minced lamb and crumble the dry stock cube into the pan.

Cook, stirring occasionally, until just brown (5 mins).

Add the tinned tomatoes, rosemary and redcurrant jelly. Cook for 10 min on a medium heat.

Add 1 cup of peas and stir.

Place in a heat-proof dish and add your ready-made mash
(crumbling it on top as per the video).

Ready for the freezer

label and seal, do not freeze until completely cold.

For a large freezer: Freeze in heat proof dish with lid.

For a small Freezer: Freeze pie filling in freezer bag and freeze flat, just remember to buy your readymade mash on the week you plan to eat it.

Ready to Eat

Thaw in a fridge overnight, cook at 180c for 30/40 mins.

If you have not frozen this and are eating on day of making it, it will still need 20/30 minutes in the oven for the mash to heat through.