Leftover Turkey and Ham Pie
by
The Batch Lady
- https://thebatchlady.com/r/4678/
What better way to use up that leftover Christmas turkey and ham than with a delicious pie.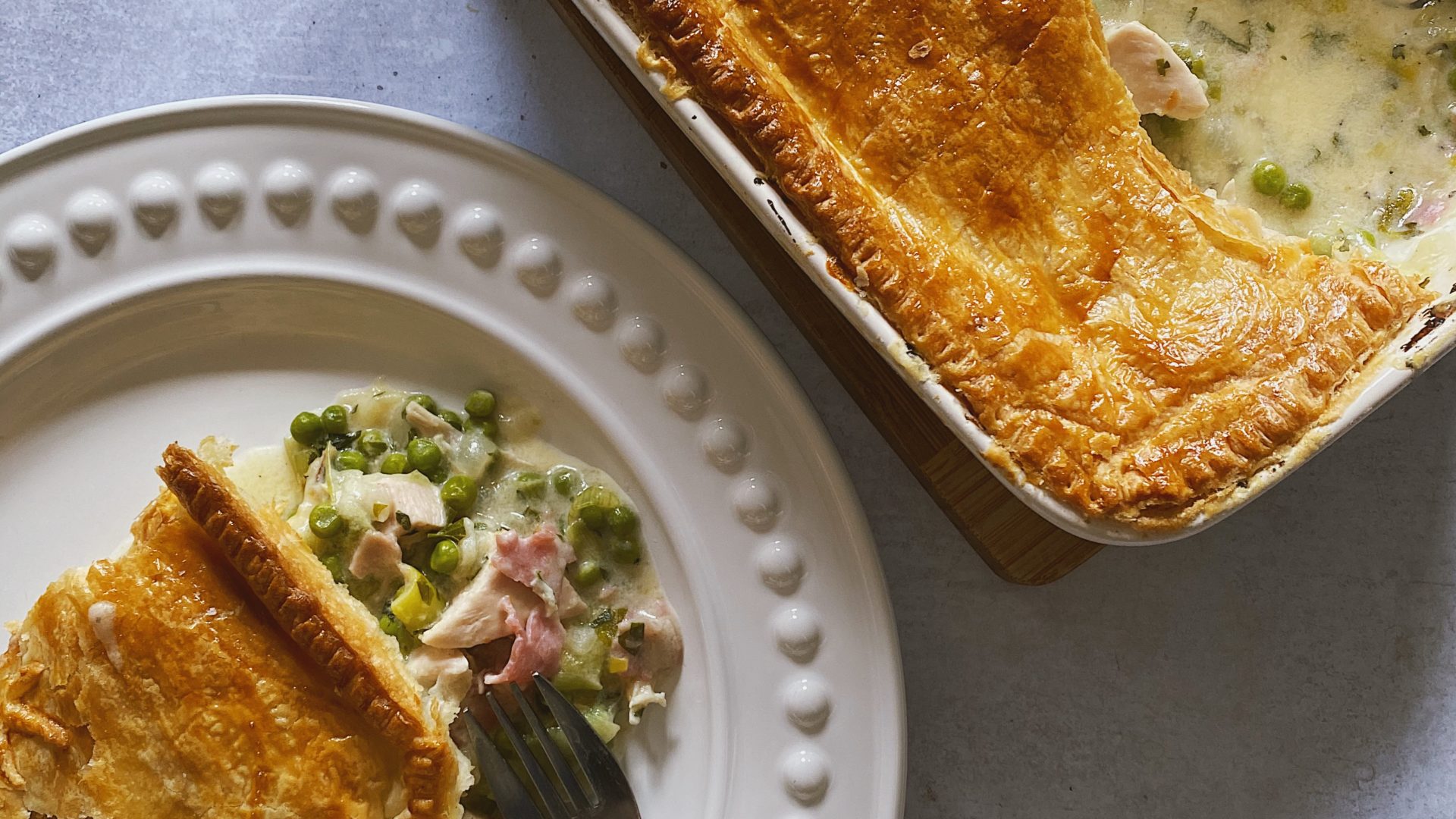 Ingredients
frozen diced onions

1

cup

(

115

g

)

frozen peas

1

cup

(

155

g

)
Method
In a large deep sided frying pan add the knob of butter and place on a medium heat. Leave to melt and then add the diced onions and leek and cook on medium heat until soft.

Next add the flour and the chicken stock whisking well to get rid of any lumps. Once the sauce is thickening slowly add in the milk whisking the whole time. Once you have used all the milk reduce the heat to a simmer.

Add in frozen peas and the crème fraiche and give it all a good mix. Season add the optional parsley and leave to simmer for around 5 minutes.

If you are planning on cooking and eating this now, add in your leftover turkey and ham to the sauce. If you are planning on freezing and eating it at another time, simply add the leftover turkey and ham to a freezer bag and add leave the sauce to cool before adding to a separate freezer bag. This way you won't be reheating the turkey and ham.

If cooking now, pour the pie mix into an ovenproof dish big enough for 4 and cover with the sheet of pre rolled pastry. Push the pastry to the sides of the dish making sure that everything is covered. If you have any overhang, trim this off with a knife and then take a fork and push the pastry gently round the whole of the dish. This will stop any of the filling leaking out.

Crack the egg into a small bowl and give it a good whisk. Using a pastry brush or your fingers, use the egg wash to cover the top of the pastry. This will give it that lovely golden colour.

Place the pie in the oven at 180oc for around 30-40 minutes until the pastry is golden brown and inside is piping hot.

 

Ready to freeze

How that you have your leftover turkey and ham in one bag and your cooled sauce in another, place flat in the freezer with the sheet of puff pastry next to it. This will mean it is easy to grab when you want to cook it.

Ready to eat

Remove the 2 freezer bags and pastry from the freezer and leave to fully defrost. Pour the sauce into a mixing bowl and add the defrosted turkey and ham. Mix well with a spoon and then pour into an ovenproof dish. Cover with the sheet of pastry and then follow the steps in the method regarding egg wash and cooking times.