Homemade Pizza 'grab and cook bag'
by
The Batch Lady
- https://thebatchlady.com/r/3348/
This is one of my cheats as I use a ready to roll pizza dough, however like many of my batch cook dishes, it's mainly homemade and certainly better than buying a supermarket pizza. The kids have great fun adding the toppings and I know exactly how much cheese goes into it and what the tomato base is made of.
Use small sealable freezer bags for these pizza raw bags. Simply put all the toppings you want in the bag rather than tell you what you like on your pizza simply add any topping you like, I use…..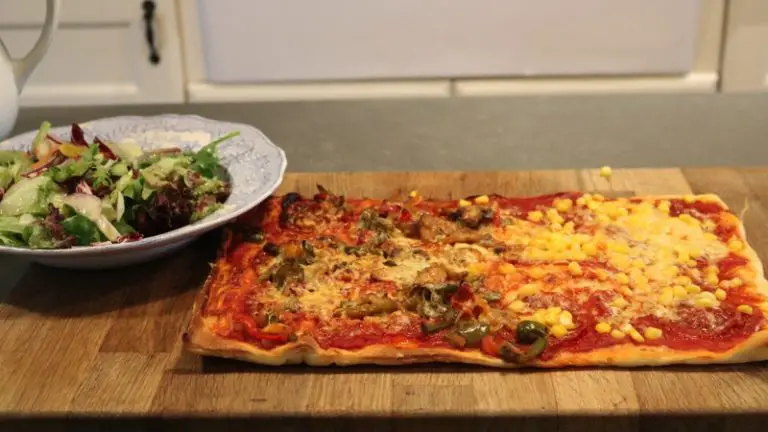 Ingredients
Ready to roll pizza dough

Tomato sauce (Ragu, homemade* or topping sauce)

Frozen chopped onions

0.5

cups

(

58

g

)

frozen sliced peppers

0.5

cups

(

88

g

)

Grated cheese

0.5

cups

(

30

g

)
Method
See my basic tomato sauce recipe, whenever I make my tomato sauce recipe for spag bol. I always add 2 ladle spoons of sauce and an extra bit of tomato puree to a few small sealable freezer bags and label them pizza sauce. That way I never have to buy pizza sauce and I know exactly what is in my homemade recipe.

I put this all in a sealable freezer bag, seal it and label it.

Take a tomato sauce bag, a toppings bag and a rolled pizza base and rubber band these together. Freeze for later.

Top Tip

Get each family member to make up there own bag that way everyone gets what they want.

Ready to Eat?

Simply, take out freezer and defrost, roll out pizza dough onto a tray leaving the parchment paper on, add your tomato sauce and toppings, and add some grated cheese. Cook for about 15-20 min and serve.

Batching

These are easy and fun to make, kids can make there own, simply buy extra pizza dough and make bags of toppings up. This saves waste as you can use all the toppings up until you run out.