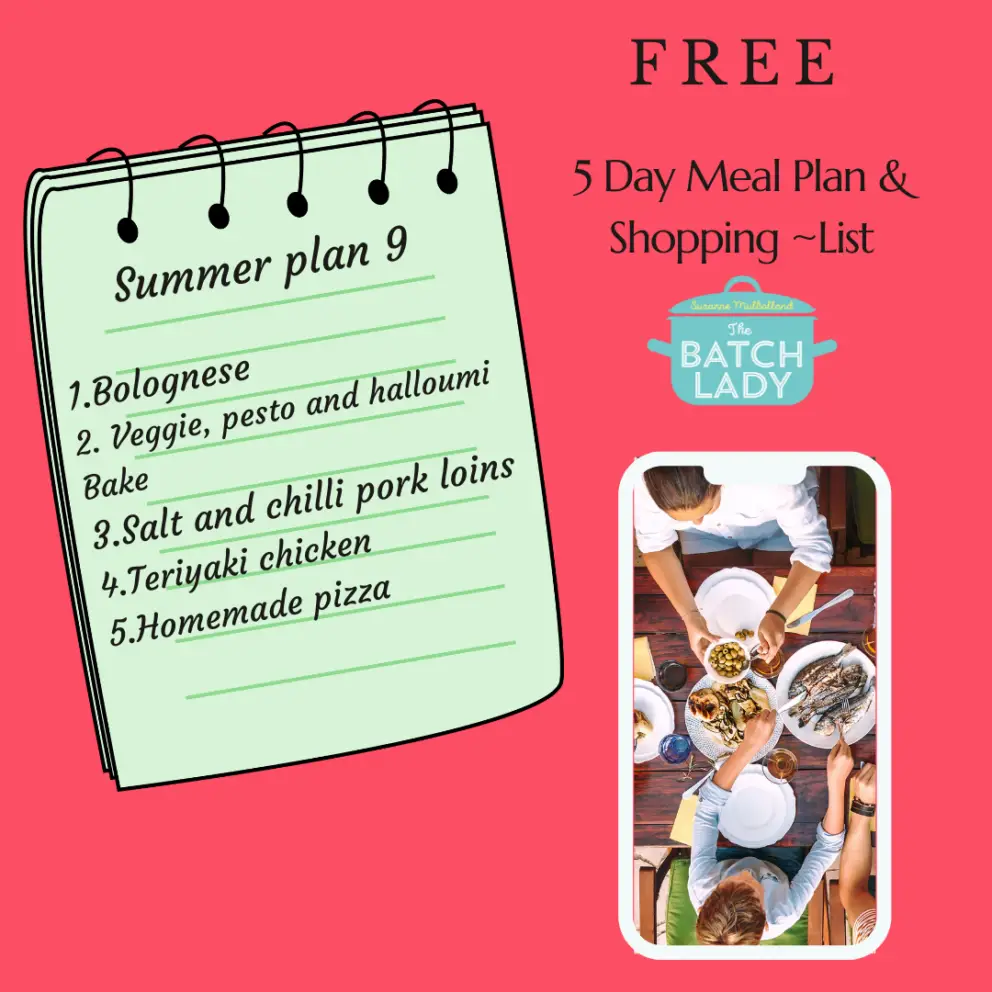 Summer Meal Plan 9
This weeks meal plan comes in at under £34 for 5 meals and costs under £15 to double up so why not fill that freezer for a busy week when you don't have the time or just don't feel like cooking!
This week you will be making:
Bolognese
Veggie pesto and halloumi bake
Salt and chilli pork loins
Teriyaki chicken
Homemade pizza
Read below for more information on how these meal plans works along with all the recipes.
Information
Meal planning is all about regaining headspace when it comes to meal times. Having to think about what you are going to cook every night is exhausting and it really doesn't need to be that way! By following my meal plans, all the hard work is done for you!
My meal plans are a little different to others you may have seen online as they have the option to 'double up'. Doubling up is simply making double of what you are cooking. Doing this means that you will have an extra 5 full meals prepared that can be frozen ready to grab out the freezer whenever needed.
Each of my meal plans are costed. Each week you will see the cost for the full shopping list and the cost to double up. The doubling up price is significantly lower due to the fact that you will have bought many of the store cupboard ingredients already- what a win!
How to use these meal plans:
Decide what recipes (if not all) you are going to cook this week. You can take a look at each of the recipes individually below.
Decide if you are going to double up and fill the freezer for another week. I really recommend doing this.
Scroll down to the shopping list printable PFD. This document has all the ingredients needed for this week listed per recipe.
In the shopping list you will see that underneath each recipe ingredient list there is a 'double up' list. These are the ingredients you will need to buy on top of the recipe shopping list in order to make double.
Head to the shops and get your shopping in for this weeks meal plan.
Get batching! The full recipe for each is listed next to its picture and will walk you through step by step.
Download Shopping Plan
Here is this weeks shopping list, print it off and take it with you to the shops.