Miso soup
by
The Batch Lady
- https://thebatchlady.com/r/3491/
Looking for an easy, hot tasty lunch to batch, grab and go? My Miso noodle soup-in-a-jar recipe couldn't be simpler or more wholesome. Yum yum!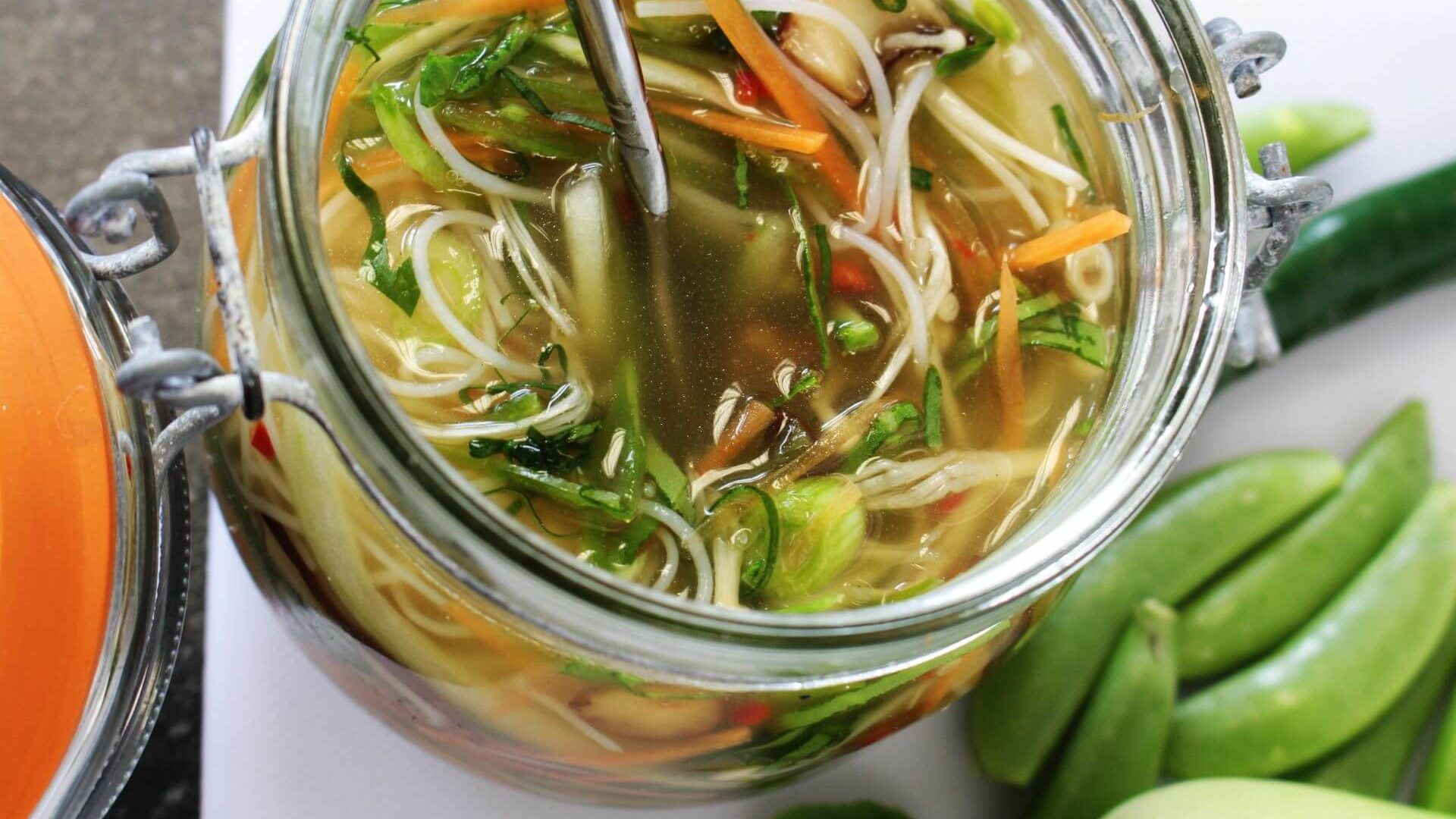 Ingredients
Vermicelli or instant rice noodles

Fresh vegetables of your choice*

(Optional) prawns/cooked chicken/pulled pork

Itsu miso soup powder or paste
Method
Take a good sized jar or a flask and fill it as follows:

1 portion of rice vermicelli or instant rice noodles roughly broken up on the bottom.

Then add your choice of chopped vegetables, selected from (or add your own choice):

pak choi – remove end, slice in half down the centre, then cut leaves and stem into roughly 2 cm slices,
spinach leaves – a handful,
red onion – a quarter finely sliced,
celery – chopped into roughly 1-2 cm slices,
baby sweet corn, mange tout, spring onion, fennel – chop to the size you prefer,
fresh red chilli – remove seeds, chop small and add 3 or so pieces to the jar,
coriander – roughly chop and add as much as you like.

If you are adding meat or prawns, put in a handful on top.

You can either add your packet of miso soup powder/paste now and seal or take the packet alongside your jar and add when ready to eat.

When you're ready to eat your soup, simply boil the kettle, once boiled leave for a minute then pour over the miso powder/paste and veg.

Seal the jar and give a little shake to make sure the contents are covered in water.

Leave to sit for 5 minutes while the noodles cook.

Remove lid carefully avoiding the steam and enjoy!

Ready for the freezer

If you've prepared lots of veg, don't waste anything. Just portion out into sealable freezer bags and pop in the freezer for another day's lunch.

Ready to eat

Take one freezer bag out of the freezer. Tip the contents into a jar, seal and pack in your work bag along with your miso soup sachet. Once defrosted – just add boiling water.