Brides chicken
by
The Batch Lady
- https://thebatchlady.com/r/3155/
This recipe has been about for years; there are lots of different versions of it. A great friend Sarah-Jane made it for me once and I now make it every few weeks. It's called brides chicken as it was often given to new brides by their mothers as an easy dish to make for new husbands. This is a great one to feed the whole family, it's best described as a warm Coronation Chicken.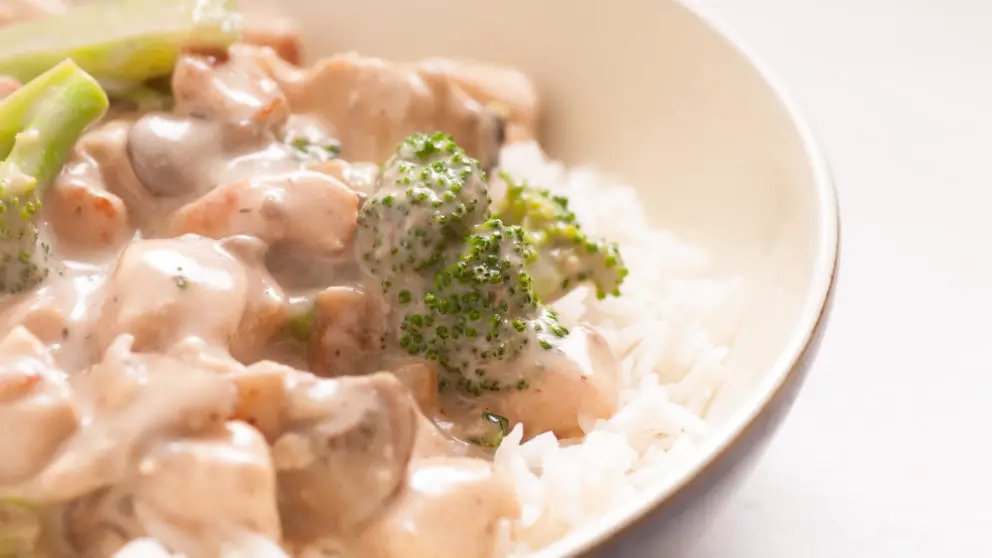 Ingredients
Condensed soup. Chicken or Mushroom

2

cans

(

800

g

)

Button Mushrooms

3

cups

(

210

g

)

Mayonnaise

1

cup

(

230

g

)
Method
Cook the chicken breasts in a foil parcel on a tray in the oven (approx. 30 min 180ºc).

While the chicken is cooking gently boil the broccoli until about ½ done, then drain the water.

Once the chicken is cooked, quickly shred it whilst still hot.

In a large bowl add the condensed soup, lemon juice, mayonnaise, curry powder, broccoli and button mushrooms and mix gently.

Next stir the chicken into the pot.

Ready for the Freezer

Simply portion out the mixture into labelled sealed freezer bags. Flatten bags to ensure you can stack them in your freezer.

Ready to Eat

Simply remove from freezer and defrost overnight in fridge.

Once defrosted heat in saucepan on the hob, in the microwave or if plenty of time put it in a dish and heat in oven with grated cheese on top.

Cook until piping hot, serve with rice or new potatoes.