Pulled pork
by
The Batch Lady
- https://thebatchlady.com/r/3371/
This slow cooked pulled pork is so juicy, soft and and so moreish! This pork is cooked for 8-10 hours, it really is worth the wait!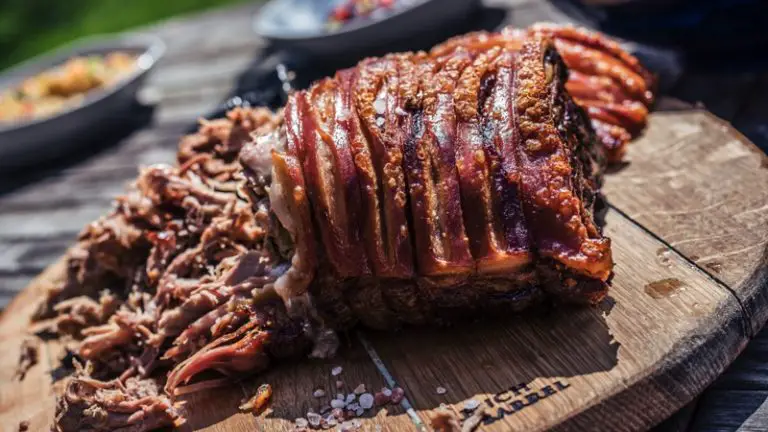 Ingredients
Frozen bag of onions

1

bag

(

500

g

)

Chicken stock

2

cups

(

480

ml

)

BBQ sauce

2

cups

(

480

ml

)
Method
Take any packaging or string off the pork shoulder.

In a bowl add the sugar, cumin, cinnamon and chilli powder and mix using your hands.

Once mixed rub the mix all over the meat (not on the fat).

Take a large lidded roasting tin and pour in your stock, the bag of onions and the garlic and mix around.

Gently put the meat in the roasting dish (fat side up) and put the lid on.

Place this in the bottom of your aga or in an oven at 100°C for approximately 8-10 hrs or until the meat is falling apart.

Once the pork has been slow cooked, remove the meat to a chopping board and with a slotted spoon remove the onions to a different bowl.

Allow the liquid to cool so that you can remove most of the fat from the top of it.

While the liquid is cooling, pull the pork apart with 2 forks or if soft enough you can use your fingers.

Put the pulled pork in a bowl and add the 4 cups of BBQ sauce.

Once the liquid is cooled and the fat removed add 3 cups of the liquid to the BBQ pork and mix together.

You want the pork to be very moist as it will be frozen and reheated.

Ready for the freezer

Finally divide the meat into portions, I usually serve a heaped ½ cup per person, so 2 cups in each freezer bag will be perfect for a family of 4. Freeze flat, label and seal. I usually freeze my freezer bag of pulled pork, next to 4 brioche buns and 4 small corn on the cobs, so I have a delicious full meal ready to go from the freezer.

Ready to Eat

Defrost the pulled pork and buns. Heat the pulled pork in the microwave for 2-3 minutes. At the same time cook the corn from frozen in a hot oven, 180°C for about 15 minutes.