Pesto pasta- grab and cook bags
by
The Batch Lady
- https://thebatchlady.com/r/3368/
I love 'Grab and Cook' bag days! Grab and Cook bags are bags filled with most of the raw ingredients needed for a recipe ready to defrost and cook later. Pesto pasta is a favourite in this house so I always make 3 bags each time I do this recipe.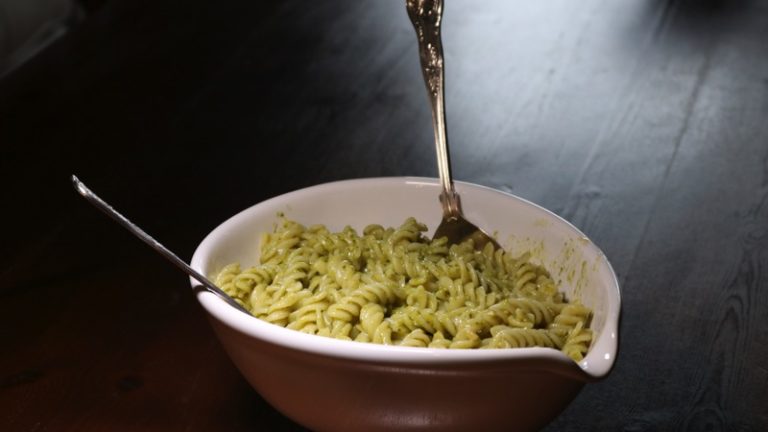 Ingredients
For the homemade Pesto
Pine nuts

0.33

cups

(

5

tablespoon

)

Olive oil

0.66

cups

(

11

tablespoon

)

Grated Parmesan cheese

0.33

cups

(

5

tablespoon

)
For the no cook bag
Frozen pre-cut onion

1

cup

(

115

g

)

Ice cubes of pesto pasta (as made above)
Method
Start by making the pesto, as it will have to freeze for a few hours.

Take all the pesto ingredients and add them to a blender, whiz them up until you have a good consistency for your pesto sauce. You can add more oil if it is too thick.

Pour the mixture from the blender jug into ice cube trays and freeze.

It's a good idea to make ½ filled ice cubes of pesto too as there are lots of other recipes on the batch lady that use these.

Once frozen, decant the pesto from the ice cube tray and put the little cubes in a Freezer Bag for later, or continue on below to make your pesto no-cook bags.

For the No Cook Bags

In each bag put 8 frozen pesto cubes
1 cup of frozen pre-cut onions
6 uncooked rashers of back Bacon cut into strips

Ready to eat

On the day you want to use this, simply take it out of the freezer, transfer the pesto cubes to a bowl and leave it all to defrost. (Best practice is overnight in the fridge). Once defrosted, put a little oil in a frying pan, add the onions and bacon over a medium to high heat and cook well – about 10 minutes. At the same time, cook your pasta in a separate pan. Once the pasta is cooked, drain and add the cooked bacon, onions and pesto. Enjoy!