Millionaires Cheesecake
by
The Batch Lady
- https://thebatchlady.com/r/4674/
A luxurious Christmas pudding alternative. It has a few steps but it is worth it for this amazing Christmas desert!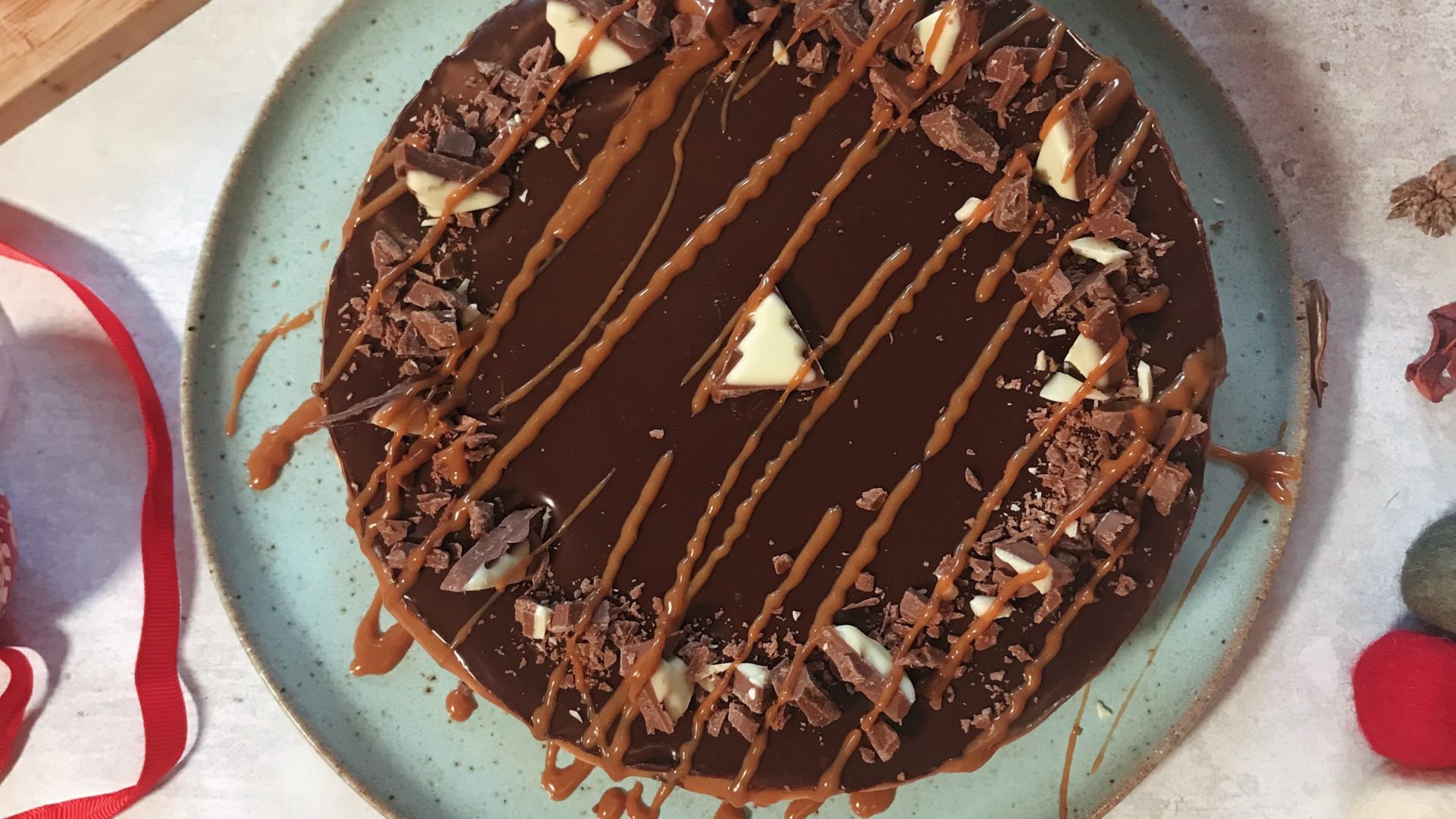 Ingredients
double cream

1

cup

(

240

ml

)

icing sugar

0.25

cups

(

45

g

)
Method
Line an 8-inch springform tin with a circle of greaseproof paper.

Melt the butter in a large bowl in the microwave.

Place the biscuits in a food processor and mix until you have a fine crumb. If you don't have a processor, put the biscuits into a large freezer bag and bash with a rolling pin until you have a fine powder. Pour the biscuit crumb into the mixing bowl with the melted butter and mix well. Pour this mix into the tin and using the back of a spoon press the mix to the bottom of the tin so it is compact. Place in the fridge while you make the filling.

In a large mixing bowl add the cream cheese, double cream and icing sugar and using an electric whisk give it a good mix until it this thick.

Remove the base from the fridge and pour the creamy mix over the top spreading evenly.

Place it back in the fridge

Now for the caramel layer. In a microwave proof bowl add the carnation caramel and pop it in the microwave for around 30- 40 seconds. Remove it from the microwave and give it a mix with a spoon, it will have a few little lumps in it but this will go as you mix it. Once you have a smooth pouring consistency, take the cheesecake out of the fridge and pour the caramel over the top. Use a spoon to spread the mix all over the top and then put back in the fridge for 20 minutes.

While the caramel is setting you can make the ganache for the top layer. Break up the chocolate and add to a mixing bowl. In a microwave proof jug heat the cream in the microwave for around 40 seconds until it is piping hot but not boiling. Pour the hot cream over the chocolate and leave it for a minute to start melting the chocolate and then take a spoon and mix the chocolate and cream together. The chocolate will melt as you mix.

After 20 minutes is up, take the cheesecake out of the fridge and pour over the ganache spreading evenly.

Back into the fridge and set for around 5 hours before eating.

Ready to freeze

Once set, keep the cheesecake in its tin and cover the cheesecake completely with cling film before placing in the freezer.

Ready to eat

Remove the cheesecake from the freezer and leave it to defrost overnight in the fridge. Once defrosted, simply slice up and serve!