Green pasta sauce with crispy bacon
by
The Batch Lady
- https://thebatchlady.com/r/3495/
This pasta sauce is packed full of veg and requires no chopping at all! To make this vegetarian, simply take out the bacon.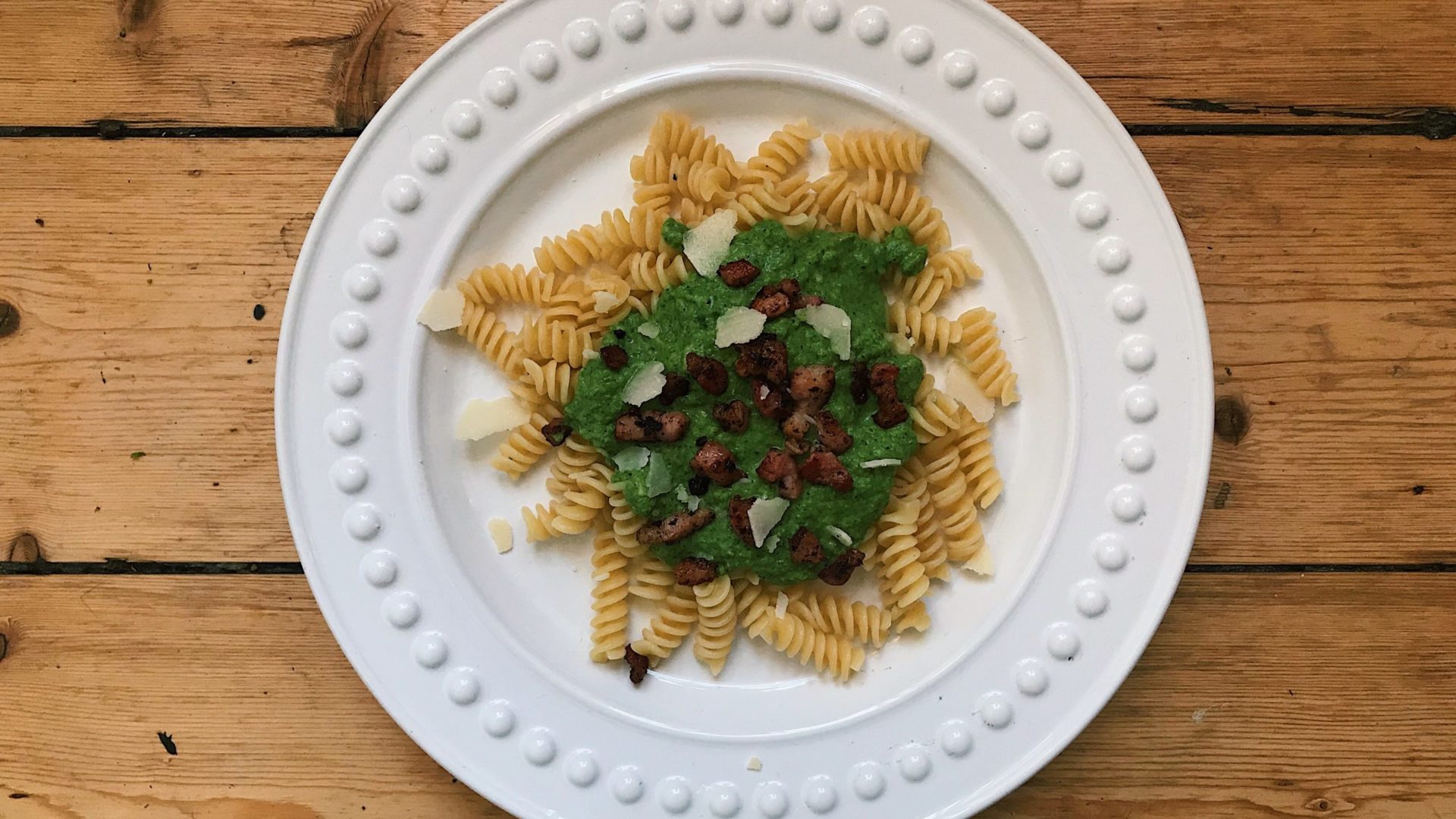 Ingredients
Frozen pre-chopped garlic

Frozen pre-chopped onion

1

cup

(

115

g

)

Frozen broccoli florets

1

cup

(

70

g

)

Frozen peas

2

cups

(

310

g

)

Vegetable stock (120ml water)

Creme Fraiche

0.25

cups

(

50

g

)

Pre-grated parmesan

0.5

cups

(

50

g

)

Bacon lardons

2

packets

(

200

g

)
Method
Heat the oil in a saucepan on a low to medium heat. Add the garlic and onions and cook until softened.

Next add the broccoli, spinach and peas.

Add the chicken stock, bring to the boil then reduce the heat and leave to cook.

While the vegetables are cooking, add a little oil to a frying pan and fry the bacon lardons until crispy. Remove from the heat and put into a little bowl with some kitchen roll at the bottom to soak up any excess oil.

Once all the vegetables are soft, remove from the heat and add the crème fraiche and parmesan.

Using a blender, blend the mixture until the sauce is smooth. You may need to add a little water if the sauce is too thick.

Finally, add the crispy bacon bits to the sauce and season with salt and pepper

To Serve

This sauce can now be used to top your favourite type of pasta.

Ready for the Freezer

Once sauce has cooled, pour into a labelled reusable freezer bag and put into the freezer.

Ready to Eat

Once defrosted, pour into a saucepan or place in the microwave and heat through until piping hot. Serve on pasta of your choice.