Enchiladas
by
The Batch Lady
- https://thebatchlady.com/r/3252/
Chicken Enchiladas are a great one-dish meal, they are hearty and filling and great for all the family. Easily cooked in advance and frozen.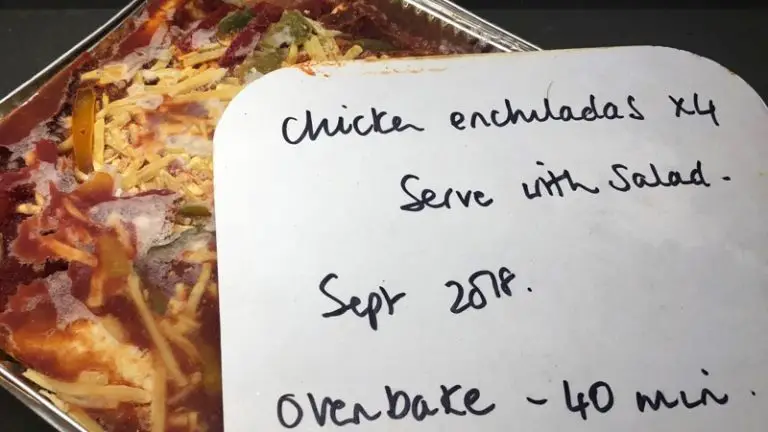 Ingredients
Frozen or fresh peppers

1

cup

(

175

g

)

Grated cheese

1

cup

(

60

g

)

Salsa

0.5

cups

(

50

g

)
Method
Add a splash of oil to the pan over a medium heat.

Chop the chicken into chunks.

Add the chicken (and peppers) to the pan and heat until cooked through, about 10-12 mins.

In a bowl add the jar of salsa, the tomatoes and the fajita seasoning and mix.

Add ½ the mixture to the pan with the chicken and stir through.

Next start to assemble the enchiladas.

Make sure your tortillas are warm 15 seconds in the microwave should do this.

Add 2 heaped tablespoons of chicken and sauce to each tortillas and a sprinkle of the grated cheese.

Roll up the tortilla and place in the dish, do this for all tortillas, when the dish is full cover the rolled tortillas with the sauce and sprinkle cheese on top.

Freezing

Cover the dish and label and freeze.

Ready to Eat

This dish can be cooked from frozen or defrosted.
To cook from frozen they are going to take around 40 min on 180°C.
To cook from defrosted, allow 20 min at 180°C serve when cheese melted and sauce bubbling.