Easy Salmon En Croute
by
The Batch Lady
- https://thebatchlady.com/r/5049/
This is a brilliant spring/ summer recipe served with a big side salad. Perfect for if you've got friends over! This recipe will make 2 generous portions or 4 smaller portions.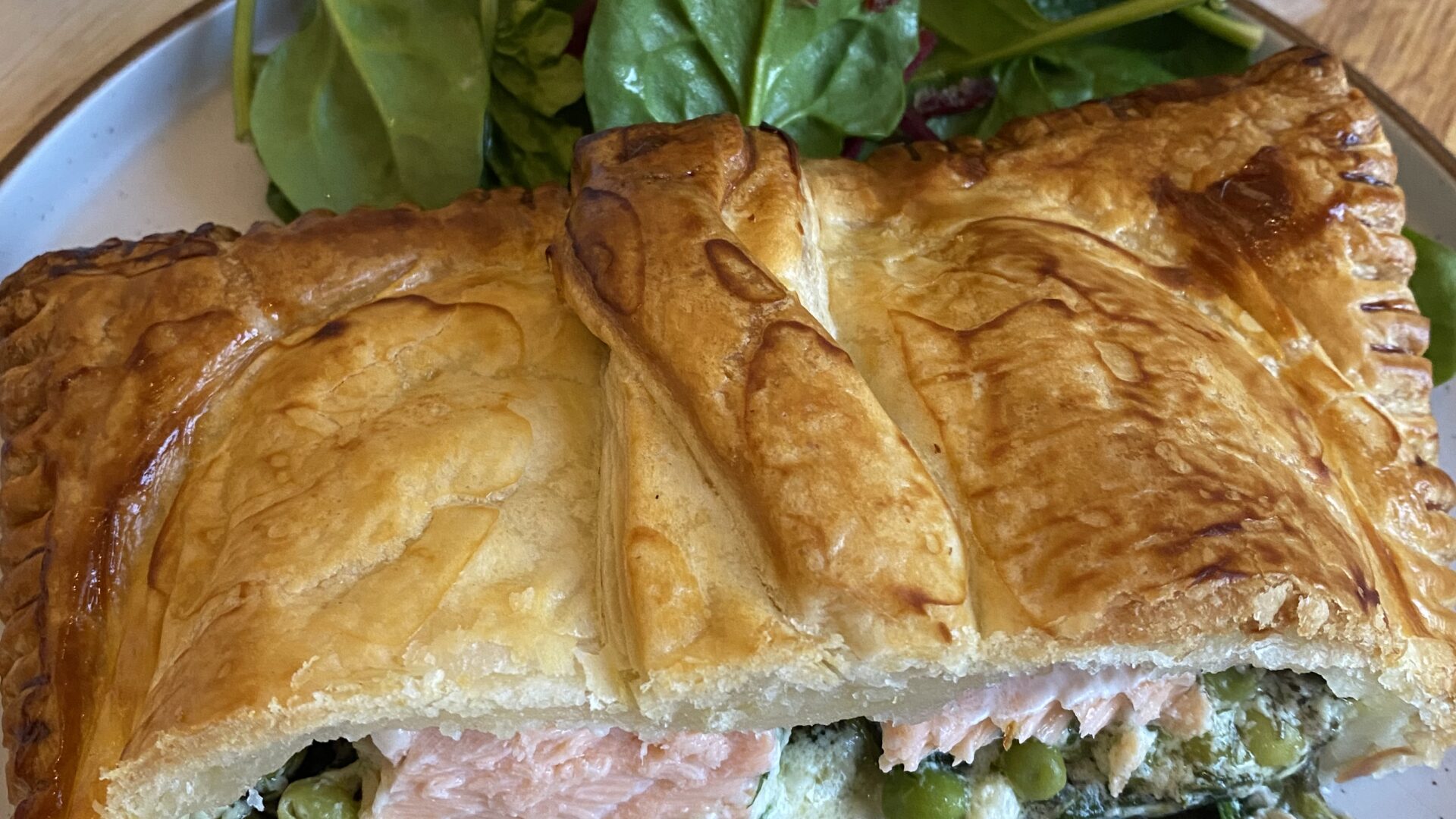 Ingredients
frozen peas

75

g

(

0.5

cups

)
Method
Add the olive oil to a frying pan. Add the frozen garlic and sizzle for 2-3 minutes. Turn the heat right down and add the creme fraiche, peas and spinach and cook until the spinach has wilted. 

Once off the heat, leave to cool completely.

Stir through the chopped dill and lemon zest and set aside.

Unroll the pastry sheet and face it long ways towards you on the counter. Slice the pastry down the middle to give you two rectangles. Here you have an option to slice a 2cm piece of pastry of each end, this will be used to plait and decorate the top.

Spread the creamy pea and spinach mix on one slice of the pastry leaving a 1 inch gap round the outside. Place the salmon fillets on top of the mix. 

Take the beaten egg and go round the inch gap with a brush. Place the second half of the pastry over the top, encasing the filling. 

Go round the outside with a fork sealing the pastry together. 

If adding the optional decoration, take the two thin slices of pastry and now you are going to plait them together. 

Egg wash the whole of the top of the pie and then lay over the optional pastry plait down the middle making sure to egg wash the top of that. 

Fold the paper from the pastry sheet over the top and then wrap up well in tin foil.
Ready to freeze
Wrap up well in foil and place into a freezer bag and place in the freezer.

 
Ready to cook
Place the frozen salmon en croute onto some baking parchment and lay on a baking tray. Cook in an oven preheated to 180oc/160oc fan for 45-50 minutes until lovely and golden. 

NB- if cooking straight away and not from frozen this will take around 35 minutes at 180oc.