Chicken and Mushroom Lasagne
by
The Batch Lady
- https://thebatchlady.com/r/5061/
This is such a brilliant lasagne! I would recommend doubling up this recipe and storing a second lasagne in the freezer for another day!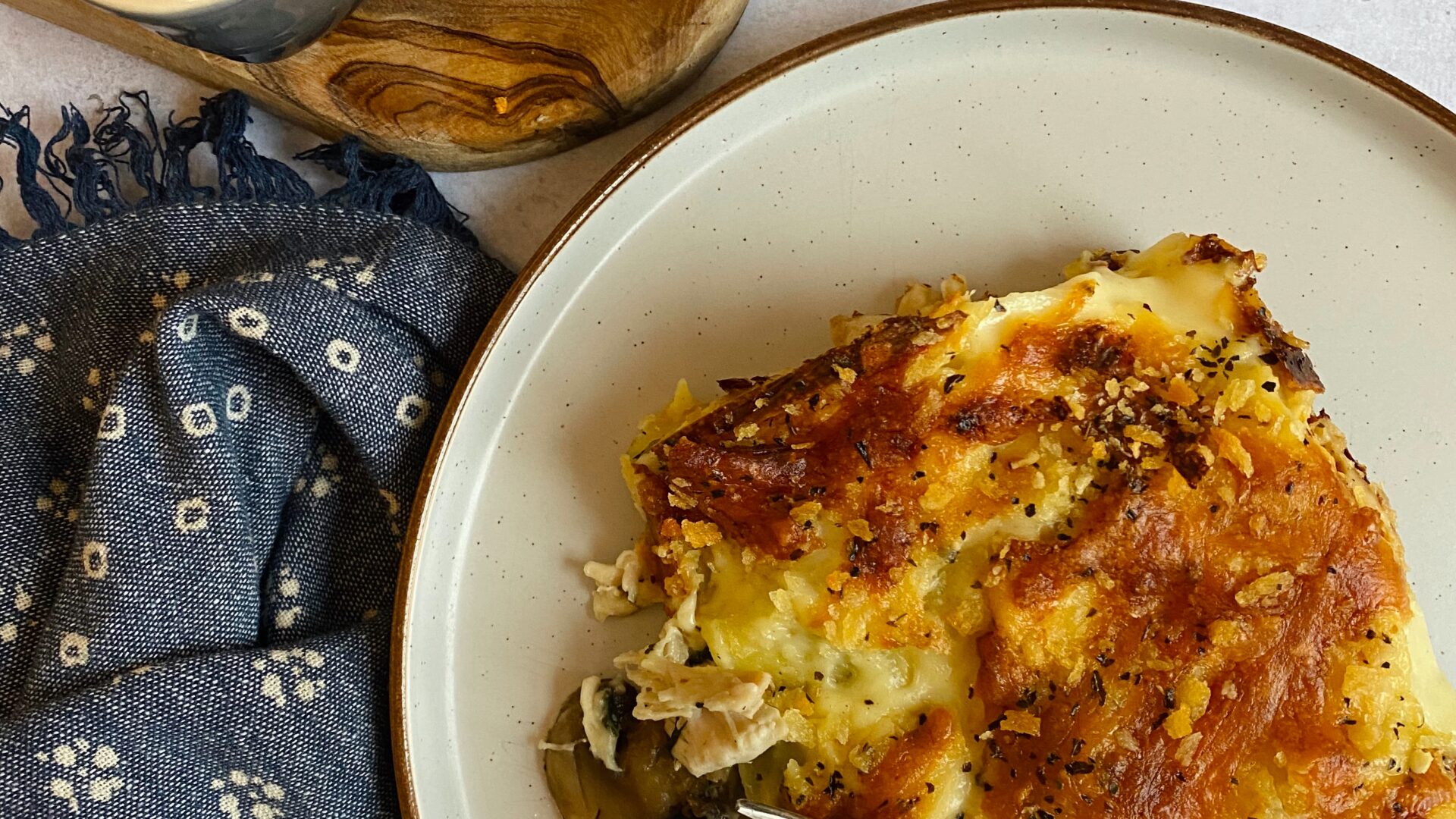 Method
 

Add your chicken breasts to a saucepan with the bay leafs and cover with cold water. Place on the heat and bring to the boil then reduce to a simmer for 10-15 minutes until cooked through.

While the chicken is cooking, add a large frying pan to a medium heat and add the oil. Add the garlic and sliced mushrooms and cook for 7-8 minutes until they have let out all of their liquid. Stir through the spinach and cook down then season with salt and pepper and remove from the heat. 

Once the chicken is cooked, remove from the water and discard. Shred the chicken breasts with fork and add to the frying pan with the mushrooms etc. Mix and set aside.

Now to make the cheese sauce. To a saucepan add the butter and leave to melt. Once melted, stir in the flour and then start gradually adding the milk a little at a time, whisking the whole time. Once you have added all the milk, add the mustard continue to whisk and cook for a further 2-3 minutes to ensure you have cooked out the flour and have a lovely lump free sauce.Remove from the heat, season well, add the grated cheese and leave to cool for 2-3 minutes before assembling. 

Now to assemble. Get your lasagna sheets, cooked chicken mix and your sauce ready to go and find an ovenproof dish. NB- if short on freezer space, freeze sauce and filing separately in freezer bags and assemble once defrosted. 

To the ovenproof dish add a layer of the cooked chicken mix spreading out over the  bottom of the dish. Next, cover with sheets of dried lasagna trying not to overlap. Next add a layer of the cheese sauce. Repeat this process until you have used up all of the chicken mix. The top layers want to be lasagna sheets and then a final layer of cheese sauce.

Add the parmesan, dried basil and breadcrumbs to a small bowl, mix and then sprinkle over the top of the lasagna. 
Ready to freeze
Wrap up well in cling film and foil or place a lid over the top.
Ready to cook
Preheat the oven to 180oc/350oF/gas mark 4 and place the frozen lasagna in the oven for 1 hour- 1 hour 10. Cover with tin foil if it starts to catch too quickly. 

If cooking from defrosted allow 45-50 minutes.

If assembling once separate bags have been defrosted, follow the assembly as per the method.