Butternut squash and sweet potato soup
by
The Batch Lady
- https://thebatchlady.com/r/3448/
This recipe was devised by a friend of mine, originally made to use up the fresh coriander and coconut milk that was leftover from making the Spice Pots Goan Fish Curry. She's done a cracking job – it is a really tasty warming soup packed with fresh vegetables. The coconut milk gives it a lovely sweetness and creamy consistency.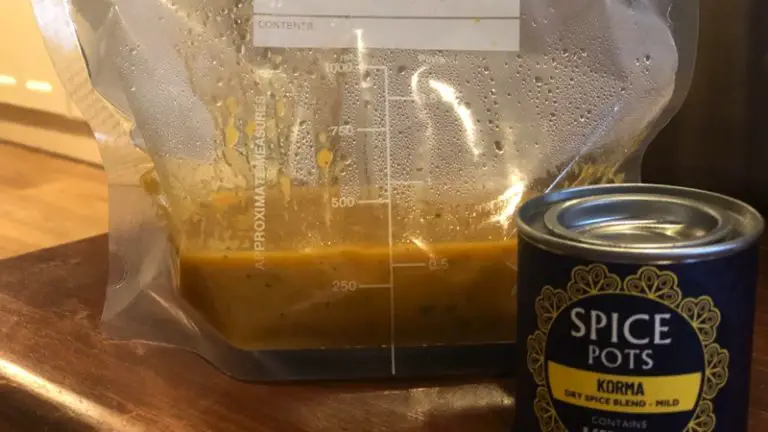 Ingredients
Frozen pre-chopped garlic

Piece of ginger (Knuckle sized)

Pre-chopped sweet potatoes

1.5

cups

(

200

g

)

Pre-chopped large butternut squash

1

bag

(

500

g

)

Frozen sliced carrots

1.5

cups

(

105

g

)

Vegetable or chicken stock cube

Korma Spice pot (Goan, Tandoori Masala or Bhuna)

Coconut milk

0.5

tins

(

400

ml

)
Method
Heat the oil over a medium heat, add the onions, garlic and ginger and cook until softened.

Put the onions and vegetables in a lidded pot with the stock cube and cover with boiling water, cook for 5 minutes.

Stir in the coconut milk and Spice Pots Korma or other chosen blend. Heat for another 20 minutes.

Once the vegetables are soft, remove from heat and blend with a stick blender.

Finish with a sprinkling of chopped fresh coriander.

Ready to freeze

Once cooled, portion the soup into freezable, sealable soup bags – 1 cup per portion.

Ready to eat

Remove from freezer and cook from frozen or defrosted in a pan or microwave stirring until steaming hot.