Blueberry muffins
by
The Batch Lady
- https://thebatchlady.com/r/3507/
Here's a really simple but delicious muffin recipe – watch my video and bake along with me!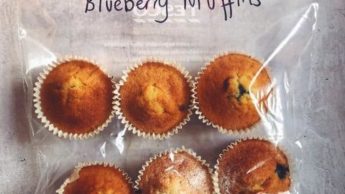 Ingredients
Butter (or stork margarine)

0.5

cups

(

115

g

)

Caster sugar

0.75

cups

(

150

g

)

Self-raising flour

1.25

cups

(

138

g

)

Fresh blueberries

1

cup

(

100

g

)
Method
Line a 12-muffin tin with cases

In a large mixing bowl add the sugar and butter. Using an electric whisk or wooden spoon cream the mixture until it is light and fluffy.

Now add the eggs and vanilla essence and combine.

Next, sieve the flour into the large mixing bowl and combine.

Now carefully fold in the blueberries and portion the mixture into the 12 muffin cases.

Cook in the oven for 15 minutes until golden.

Ready to Freeze

Once your muffins have cooled, place in a reusable freezer bag and store flat in the freezer

Ready to Eat

Once you are ready to eat your muffins, remove from the freezer and they should defrost within 30 minutes.