BBQ bags 2020
by
The Batch Lady
- https://thebatchlady.com/r/3519/
We're big fans of BBQing in our family. Here's an update on my previous video, this one is specially for enjoying being outdoors as we come out of lockdown. Happy BBQ Batching.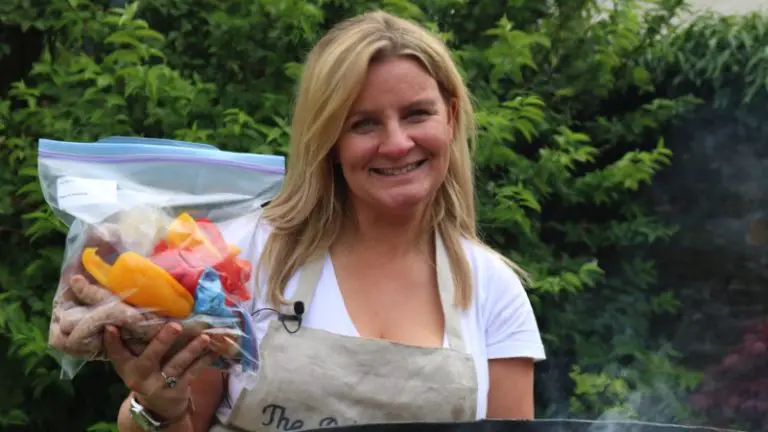 Method
A few years ago I made a video about BBQ bags, so thought I would give you an updated version with a bit more content. At the moment it's not the easiest to just nip out to the shops when the sun shines and you decide to have a BBQ. The weather has been great recently and as we come out of lockdown being allowed to now have another family over in the garden is so lovely that it lends itself to more BBQ's. Heres the best way to get organised in advance. Happy BBQ Batching.

Benefits of BBQ no cook bags:

1. You can split packs of meat into each bag saving money.
2. You already have the BBQ bag in your freezer for whatever day you choose
3. Everything you need (except the salad) is in the bag.

Chicken:
Take a small sealable freezer bag and add 3 chicken breasts cut into chunks, add 80ml of BBQ sauce to the bag mix and seal it with no air left in bag.

Sausages:
Next add 4 sausages to a large freezer bag.

Beef:
Take 2 steaks, marinate with olive oil and steak seasoning, in a small freezer bag (I like to use a ½ a beef stock cube grated into the olive oil, but there are lots of steak seasonings out there.)

Add the chicken and steak bag to the sausage bag, cut a large green pepper into quarters and add to the bag, and 4 small corn on the cob to the large bag and seal.

You can add anything to your bags, depending on what you like to eat when barbecuing. See my burger recipe for great burgers on the BBQ. You just have to remember and keep the raw chicken separate from the rest of the ingredients.

Hey presto you have a BBQ bag ready to pull out whenever needed. In true batch style I always make 4 bags at a time, as making 4 bags is as easy as 1.

Even as the weather cools and we can no longer eat outside, we can often be found barbecuing in the rain under an umbrella, we simply eat inside instead of out.