10 meals in 1 hour - fish
by
The Batch Lady
- https://thebatchlady.com/r/3092/
OK! For this section we are going to be making 5 different recipes with each recipe making 2 family meals for 4 people, so you will end up with 10 family meals for 4!
We are going to make:
Fish chowder
Fish pie
Fish cakes
Fish fajitas/tacos
Salmon and pesto parcels
I've given you the shopping list first. Once you have all the ingredients from the list, you will have everything you need for all ten meals. The ingredients you will see under each recipe are taken from the shopping list.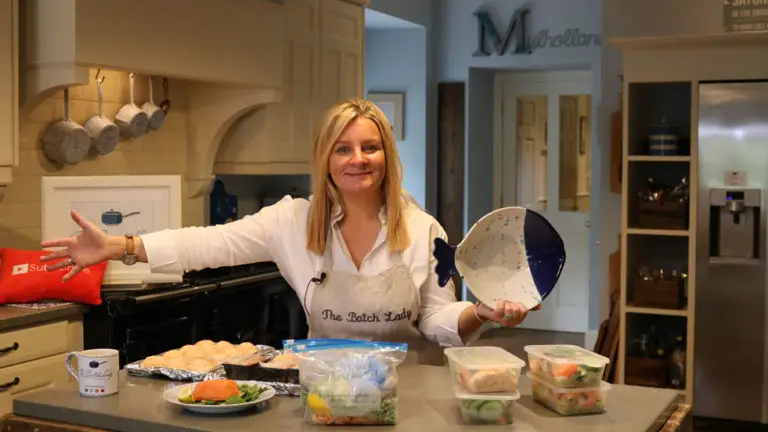 Ingredients
Fresh fish pie mix

10

packets

(

3

kg

)

Chopped onion

1

packet

(

500

g

)

Stock cubes (fish or veg)

Crème fraiche (half fat)

1

tub

(

300

g

)

Fajita seasoning

2

packets

(

60

g

)

Frozen asparagus spears

1

packet

(

24

spears

)
Method
Start of Fish Chowder

Ingredients

2 cups frozen, chopped onions
3 tablespoons flour
4 stock cubes to make 2 litres stock
1 kg new potatoes

First heat some oil in a large saucepan over a medium heat and add 2 cups frozen onions.

Stir in 3 table spoons of flour, cook for 1 minute, then add the 2 litres of stock and stir.

While that's heating up, scrub and dice the 1 kg of new potatoes and add to the pan to simmer for 10 minutes.

Fish Pie

Ingredients

3 packs fresh fish pie mix
60g fresh dill
1 tub (approximately 300g) half fat crème fraiche
Splash of milk
300ml double cream
3 packs pre-prepared fresh mash

Take two freezer-to-oven dishes and cover the bottom of each dish with fish pie mix straight from the packet. Chop in half the dill and add seasoning to each.

In a separate bowl mix together the double cream, milk and crème fraiche. Pour this over the fish in each dish.

Crumble over the ready-made mash and spread evenly. Add the lids and labels ready for the freezer.

Return to the simmering chowder

Ingredients

600ml of milk
1 cup (about 240 ml) cream
4 packets of fish pie mix
30 g chopped dill.

Into the potato and stock pot add the milk and cream to thicken, the fish pie mix and chopped dill.

Give a good stir then leave to cook over a medium to low heat.

Once cooked through allow to cool completely, then portion into 2 labelled freezer bags half in each bag. Leave open until completely cool.

Now for the start of the Fish Cakes

Ingredients

3 packs fresh fish pie mix (or any de-boned fish you like)

Spread the fish pie mix over a foil-lined baking tray. Cover with more foil and bake at 180°C for 10 minutes until cooked.

While this is cooking move on to the Fish Fajita recipe.

Fish Fajitas - made with coley

Ingredients

1.5 kg of fresh Coley or cod skinned and boned.
2 packets of fajita seasoning
1 cup frozen onions (optional)
1 cup peppers (optional)

Chop up the cod for the fish fajitas / tacos and divide into 2 small labelled freezer bags. Add one packet of fajita mix to each bag and a few handfuls of chopped (frozen or fresh) peppers to each bag. Seal flat and put in freezer.

Take oven baked fish for fish cakes out of oven and leave to cool, while you move on to step 6.

Salmon and Pesto Parcels with Asparagus

Ingredients

8 fresh salmon fillets
24 frozen asparagus spears
3 cups (or handfuls) frozen green beans
8 small Pesto cubes or 8 tablespoons of shop bought pesto

Lay out 8 individual tin foil pieces for the salmon and pesto parcels.

Place the frozen asparagus and green beans on each foil piece, lay a salmon fillet on the veg and top with a dollop of pesto, spread evenly over the fish.

Wrap each serving separately and place 4 parcels into a labelled freezer bag and the other 4 into another freezer bag.

Put these in the freezer straight away so that the frozen veg don't start to defrost.

Finishing the fish cakes

Rest of the ingredients

60g fresh dill
3 packs pre-prepared fresh mashed potato
1 egg
2 cups shop bought or homemade breadcrumbs

Slightly break up the cooked fish and add it to a large bowl.

Next add the ready-made mash and chopped dill.

Divide the mixture in half, then divide each half into 6, this will give you 12 fishcakes the same size.

Put the egg in a flat dish and slightly whisk with a fork, add breadcrumbs to another flat dish, then coat fishcakes in egg then breadcrumbs. Continue making the fish cakes. Either fry over a medium heat now until golden or freeze as they are but remember they will be fragile!

Ready to Eat

Defrost in fridge overnight.

Fish chowder:
Tip into a saucepan, stir over a medium heat until piping hot, around 8-10 minutes. Alternatively, heat in a microwave.

Fish pie:
Bake in oven at 180°C for 1/2 an hour or until steaming hot in the centre.

Fish cakes:
An fry over a medium heat for 8-10 minutes each side. Alternatively, bake at 180°C about 15 mins, turning over once halfway through.

Fish fajitas:
Pan fry over a medium heat for 8-10 minutes and serve in a warmed wrap.
Salmon and pesto parcels – cook in their foil at 180°C for 20 minutes.
Ensure all food is piping hot before serving.