10 meals in 1 hour - chicken
by
The Batch Lady
- https://thebatchlady.com/r/3090/
OK! For this section we are going to be making 5 different recipes with each recipe making 2 family meals for 4 people, so you will end up with 10 family meals for 4!
We are going to make:
Chicken Balti
Enchiladas
Brides Chicken
Mozzarella Hasselback Chicken
Hunters Chicken
I've given you the shopping list first. Once you have all the ingredients from the list, you will have everything you need for all ten meals. The ingredients you will see under each recipe are taken from the shopping list.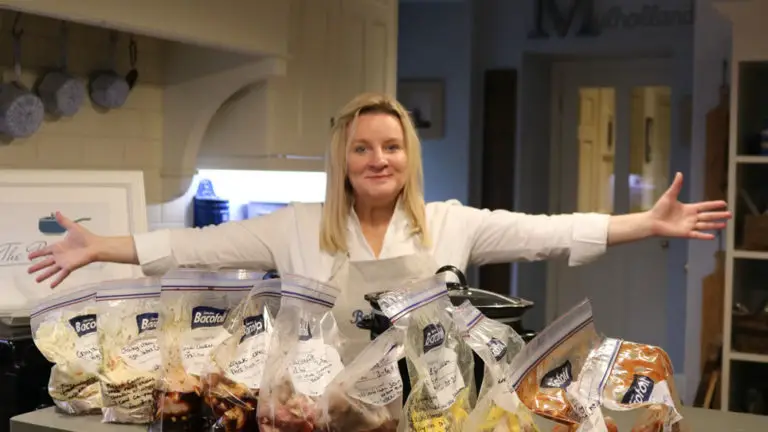 Ingredients
Frozen diced onions

1

packet

(

500

g

)

Frozen chopped spinach

1

packet

(

900

g

)

Chopped tomatoes

6

tins

(

2.4

kg

)

Pataks balti paste

1

jar

(

283

g

)

Condensed soup (mushroom or chicken)

Button mushrooms

2

packets

(

600

g

)
Method
Brides Chicken

Ingredients

18 chicken breasts (6 for Brides chicken and 12 more to cook for the Balti and enchilada recipes later)
4 cups frozen, chopped onions

First put a large pan on the hob to heat some oil.

While it's heating, arrange:

6 chicken breasts for Brides chicken in a foil parcel on a baking sheet and put them in the oven to cook for 30-40 minutes.

Now add the 4 cups of frozen onions to the pan for the curry and enchilada recipes. While heating, dice up the 12 chicken breasts for these 2 recipes and add to pan. You will need to stir this on occasion, but while you wait use the extra time to make the next two no-cook recipes.

Hunters chicken

Ingredients

8 chicken breasts
8 strips of smoked back bacon
2 cups of grated cheese
2 cup of BBQ sauce

Use 2 small freezer bags and put 1 cup of grated cheese in each bag.

Use another 2 small freezer bags and put 1 cup of BBQ sauce in each bag.

Lay out 2 large pieces of tinfoil, take each of the 8 chicken breasts and wrap 1 strip of bacon around each breast, place 4 breasts in one piece of tinfoil and wrap it into a parcel. Put the other 4 chicken breasts in the other foil parcel.

Put each foil parcel in a large freezer bag, labelled Hunters Chicken for 4, add 1 small bag of cheese and 1 bag of BBQ sauce to each of the large bags, seal and freeze flat.

Mozzarella Hasselback Chicken

(Before you move onto this step, remember to stir your chicken pot)

Ingredients

8 chicken breasts
2 ball of sliced mozzarella
5 sliced tomatoes
Fresh basil

Cut slices across the top of each chicken breast Hasselback style.

Slice your mozzarella and tomatoes and insert alternating slices into the chicken slots.

Tuck in some fresh basil leaves.

Wrap 4 chicken breasts together in a foil parcel and place in a large labelled freezer bag, do the same for the remaining 4 chicken breasts.

Check if the chicken in the oven is cooked – if so, remove now and leave aside to cool a little.

Chicken Balti

Now return to the chicken and onion mixture in the pan.

Place half the mixture into a mixing bowl, and leave to the side, this is for the enchiladas later.

To the sauce pan add:

Ingredients

24 frozen spinach cubes
4 cans of chopped tomatoes
1 jar (283g) Pataks Balti spice paste
Optional fresh broccoli pieces.
200ml of water

Make the Balti curry in the saucepan by adding the tins of tomatoes, frozen chopped spinach cubes and the curry paste. Leave on hob to bubble away until spinach is cooked through.

Once cool, portion into 2 labelled freezer bags. 4 cups per bag (1 cup = 1 portion for 1).

While the Balti is bubbling you can use the time to make the enchiladas.

Enchiladas

Ingredients

1 packet of Fajita or taco seasoning
2 cups of Frozen or fresh Peppers (optional)
8 Corn Tortillas (wraps)
2 Cans chopped tomatoes
2 cups of grated cheese
1 cup of Mexican Salsa

With the remaining cooked chicken in the mixing bowl, stir in the fajita/taco seasoning, then spoon the chicken into each tortilla wrap.

Add in some grated cheese before folding up each wrap and placing the wraps in an oven dish or foil container.

Pour salsa and chopped tomatoes over the wraps, add more cheese and the chopped peppers.

Leave to completely cool, before sealing and freezing.

Brides Chicken

Ingredients

2 head of chopped broccoli
4 cans of mushroom or chicken condensed soup
4 teaspoon of lemon juice
4 teaspoon of medium curry powder
6 cups of button mushrooms
2 cups of mayonnaise

Simmer the broccoli florets in a pan of boiling water for 1-2 minutes to blanche.

Take the 6 cooked chicken breasts and shred into a large bowl (use the same bowl as above, just give it a quick wash through). Add:

Cooked, drained broccoli florets
Button mushrooms
Cream of mushroom or chicken soup
Mayonnaise
Lemon juice
Curry powder

Mix well, divide the mixture into two and put each half into a labelled bag ready for the freezer.

Ready to Eat

Defrost in fridge overnight

Brides chicken
Tip into a saucepan and stir over a medium heat until piping hot all through. Alternatively if you have time, place in an oven dish and bake at 180°C with grated cheese on top for 20-25 minutes or until cooked all the way through.

Hunters chicken
Put the chicken breasts in oven at 180°C for 20-25 mins or until cooked through. Pour over the BBQ sauce, scatter with cheese, return to oven for 2-3 mins until cheese has melted.

Mozzarella hasselback chicken
Bake in foil at 180°C for 30 mins or until cooked through.

Chicken balti
Tip into a saucepan and stir over a medium heat until piping hot. Alternatively heat in a microwave oven.

Enchiladas
Bake in oven at 180°C for 20 minutes until the cheese is bubbling.

Ensure all the food is piping hot throughout before serving.