10 low cost family meals made in 1 hour with ALDI ingredients
by
The Batch Lady
- https://thebatchlady.com/r/3472/
Here I run through my 10 minced beef family meals made in 1 hour – but this time I've shopped at ALDI and show you how to make 10 family meals for 4 that cost only just over £30 using entirely ALDI ingredients in August 2019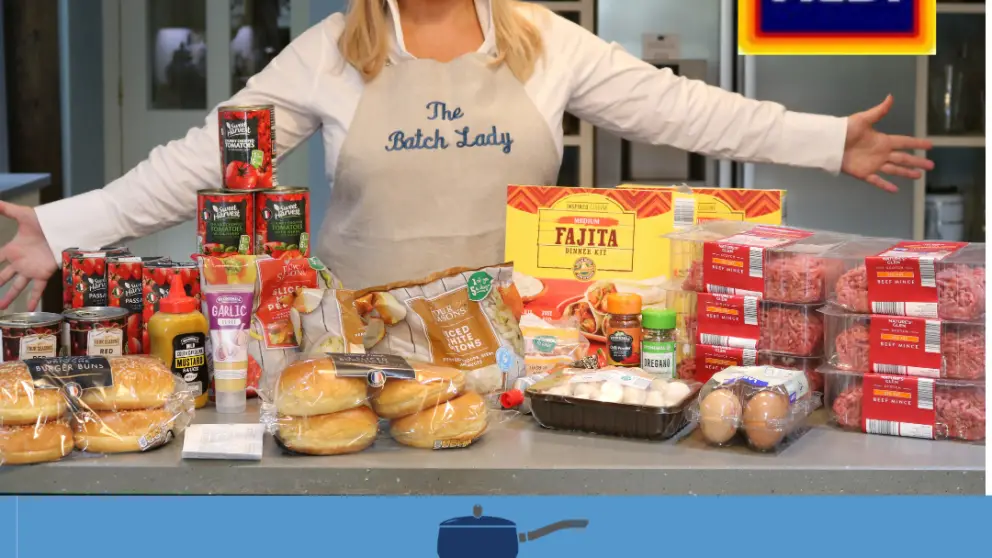 Ingredients
Fajita ingredients: including wraps, salsa and flavouring mix

Grated carrot

6

cups

(

420

g

)

Frozen chopped onion

6

cups

(

690

g

)

Frozen chopped pepper

2

cups

(

350

g

)

Mushrooms (halved/quartered or sliced)

3

cups

(

210

g

)
Method
ALDI asked me if I would make my 10 meals in 1 hour using ALDI UK products, I was actually astounded that I could make all these meals for so little money. In this video I show you what the cost of each ingredient was and what I substituted to allow me to get similar products all from ALDI, such as squeezy garlic instead of my usual frozen chopped etc. The total cost was £30.97, working out at £3.09 for a family homemade freezer meal for 4! I still had lots of herbs etc left for the next time, I worked out that minus the store cupboard ingredients that I bought this time, I could do it again for £27.00 so £2.70 for a homemade family freezer meal. Great for anyone trying to save or on a tight budget

Lay out all your ingredients in the order you'll be using them.

Add a splash of oil to your large pan, heat and then add in
6 cups of pre-chopped frozen onions
3kg of lean mined beef.

6 cups grated carrot – to be added later

Stir and allow onions and mince to brown. (This is the start of your fajitas, Bolognese and chilli).

While the meat is browning you can now make the home-made burgers. Remember to stir the browning meat occasionally.

Home Made Burgers

Ingredients:
750g lean minced beef
3 large squeezes of American mustard
1 1/2 tablespoons of Worcestershire sauce
1 egg.

Mix all the above ingredients in a bowl.
Once mixed well, divide the mixture into 4, then halve again, you should have 8 similar sized balls of meat that you can shape into burger paddies.
Label 2 freezer bags and place 4 paddies in each bag. Your burgers are now ready for the freezer.

Stir your browning pot of beef, add the 6 cups of grated carrot, stir again and move on to making your meatballs.

Home-made meatballs

These are made similarly to the burgers so just use the same bowl as before.

Ingredients:
750g of lean minced beef
2 tablespoons of Worcestershire sauce
2 tablespoons of dried rosemary, basil or oregano
1 teaspoon of garlic, puree or frozen pre-chopped
1 egg.

Mix all the above ingredients in a bowl.
Once mixed well, divide the mixture into 2 large balls, then divide each ball into 4 equal portions and divide each of the 8 portions into 4 again so that you end up with 32 similar sized meat balls.
Label 2 freezer bags and place ½ the meatballs into one bag, and half into the other. Your meatballs are now ready for the freezer.

By now your pot on the top of the stove will be ready and you can drain out any excess fat.

Do a quick tidy away of anything not needed from the burger and meatball recipe.

Fajitas

Ingredients:
2 packets fajita / taco mix.

Next make the fajitas!
Label 2 small freezer bags and portion out 1 cup of cooked mince and carrot mix from the pot into each bag, add one packet of dry fajita or taco seasoning to each bag of mince, mix this through in the bag by gently shaking Leave bags open until fully cooled! Once cooled, seal and freeze flat.

Optional- once cooled I often add a cup of frozen chopped peppers to each bag before putting directly back in freezer.

Bolognese

Take the large pan of cooked minced beef, onions and carrots, and add:

Ingredients:
2 teaspoons of frozen chopped garlic
6 tins of chopped tomatoes
3 cartons of 500g passata
4 teaspoons of Italian herbs, or oregano
4 tablespoons of tomato puree

1 punnet button mushrooms, rinsed and halved or quartered – to add later, once mixture has cooled

Stir and heat for 10 minutes until sauce is thickened- use this time to do a quick tidy up and to open and drain your kidney beans for the chilli section.

Label 2 large freezer bags, add 4 cups of Bolognese to each bag.
(1 cup = 1-person portion)
Leave open to cool, now add half the fresh, chopped mushrooms to each bag and mix.
Only seal and place in freezer once completely cool.

Chilli

Your large pot will have some mixture left, add the ingredients below to this to turn it into chilli.

Ingredients
3 teaspoons of mild chilli powder
2 drained and rinsed cans of kidney beans.

Label 2 large freezer bags and divide the mixture between the two bags, again the portion should be 1 cup= 1 person, so four cups in each bag. Leave to cool then seal flat and freeze.

Ready to Eat

Allow to defrost overnight in the fridge.

Bolognese sauce or Chilli – tip into a saucepan and stir over a medium heat or heat in a microwave oven until piping hot.
Burgers – bake in oven at 180°C for 20-25 mins, turning once half way through cooking. Ensure piping hot all the way through.
Meatballs – bake in oven at 180°C for 10-12 mins, turning half way through cooking. Alternatively, pan fry over a medium heat for 8-10 minutes.
Fajitas – microwave for 3 minutes (or until piping hot) and serve on soft tortilla wraps, with ½ fat crème fraiche, lettuce, tomato and grated cheese.