Kids school lunch Plan
Below is a 2 week school lunch plan that comes in at under £1 per child per day! This plan is based on 2 children for 2 weeks. Doing a small bit of planning in advance, allows you to be ahead of the game, organised and saving money. Better still you can pin up the list on the fridge so your kids know exactly what to pack each morning allowing you to get on with your morning.
You will see that you buy the bulk of what you need the first week, then you only need a small top up shop for the next week of a few fresh ingredients. Buying multipacks is often a great way of saving money, there are a few multi packs included in the shopping list so if you have leftovers simply keep for the next week.
For the sandwiches I like to bulk make all of the sandwiches for the next 2 weeks on the Sunday evening and freeze them all. I have added in a freezable sandwich method. This saves so much time and food waste, thus also saving money!
Lidl and Aldi are brilliant shops to find really cheap ingredients, this shopping list is based on Tesco but if you are looking for even cheaper why not try an alternative lower cost shop.
If you find school mornings stressful, this will certainly help you feel more organsied and in control. Simply spending 45 minutes on the first Sunday night will see you prepped for the week ahead and for some of the next week too. So the second Sunday you only need to make the pasta and soup, as everything else should be done for you.
Consider allocating a space in a kitchen cupboard for the pack lunch snacks so everyone in the household knows these are for the lunches and not to be eaten at random.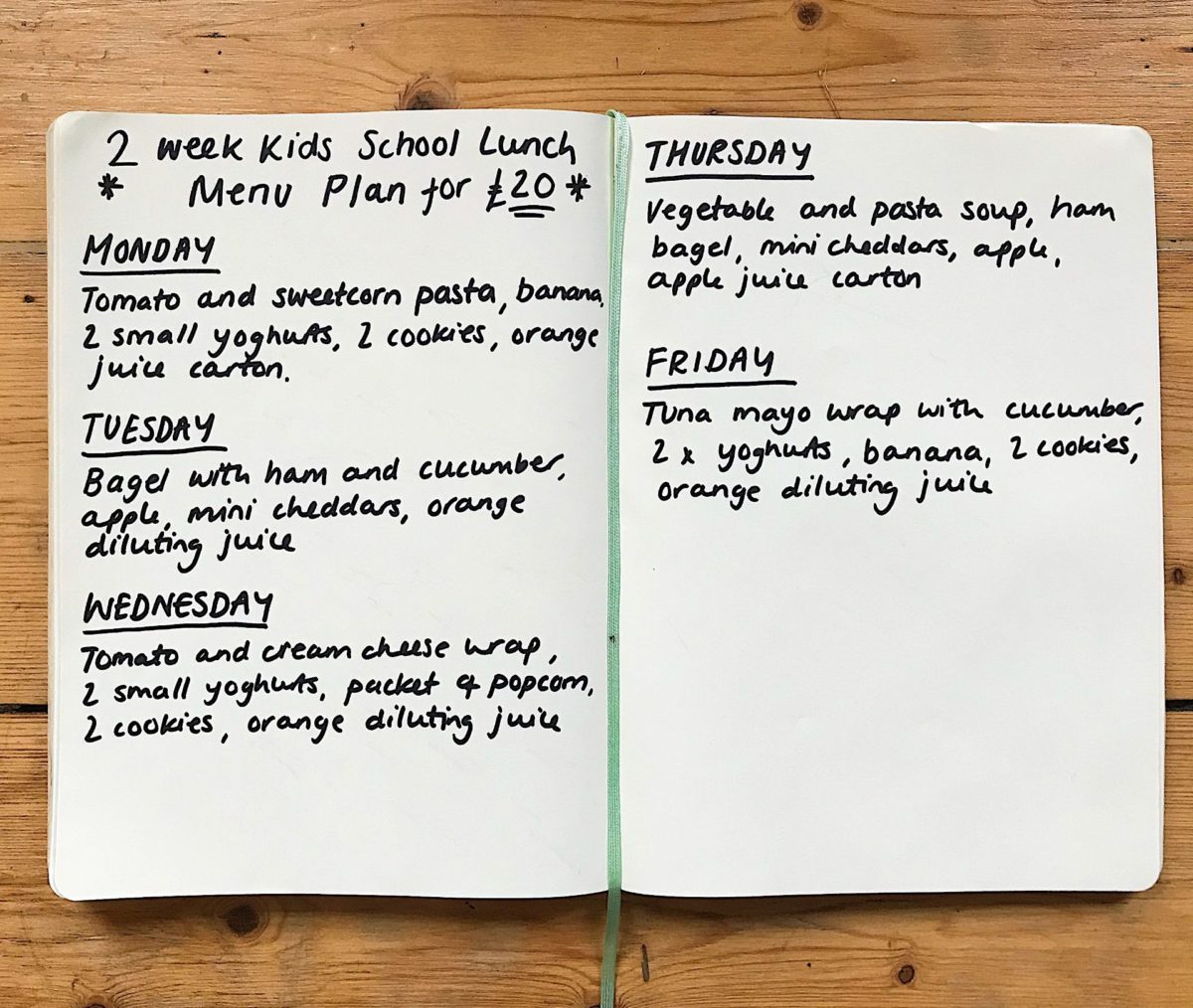 This meal plan has a great variety of lunches that will stop your kids from getting bored. You can run the same planner for both weeks, that way you only have to do 1 sandwich bagel and wrap prep session and the multi packs you buy will last throughout the two weeks, saving you lots of money.
This planner can be put on the outside of your fridge, so you can get your kids to grab what they need and pack their own lunches in the morning.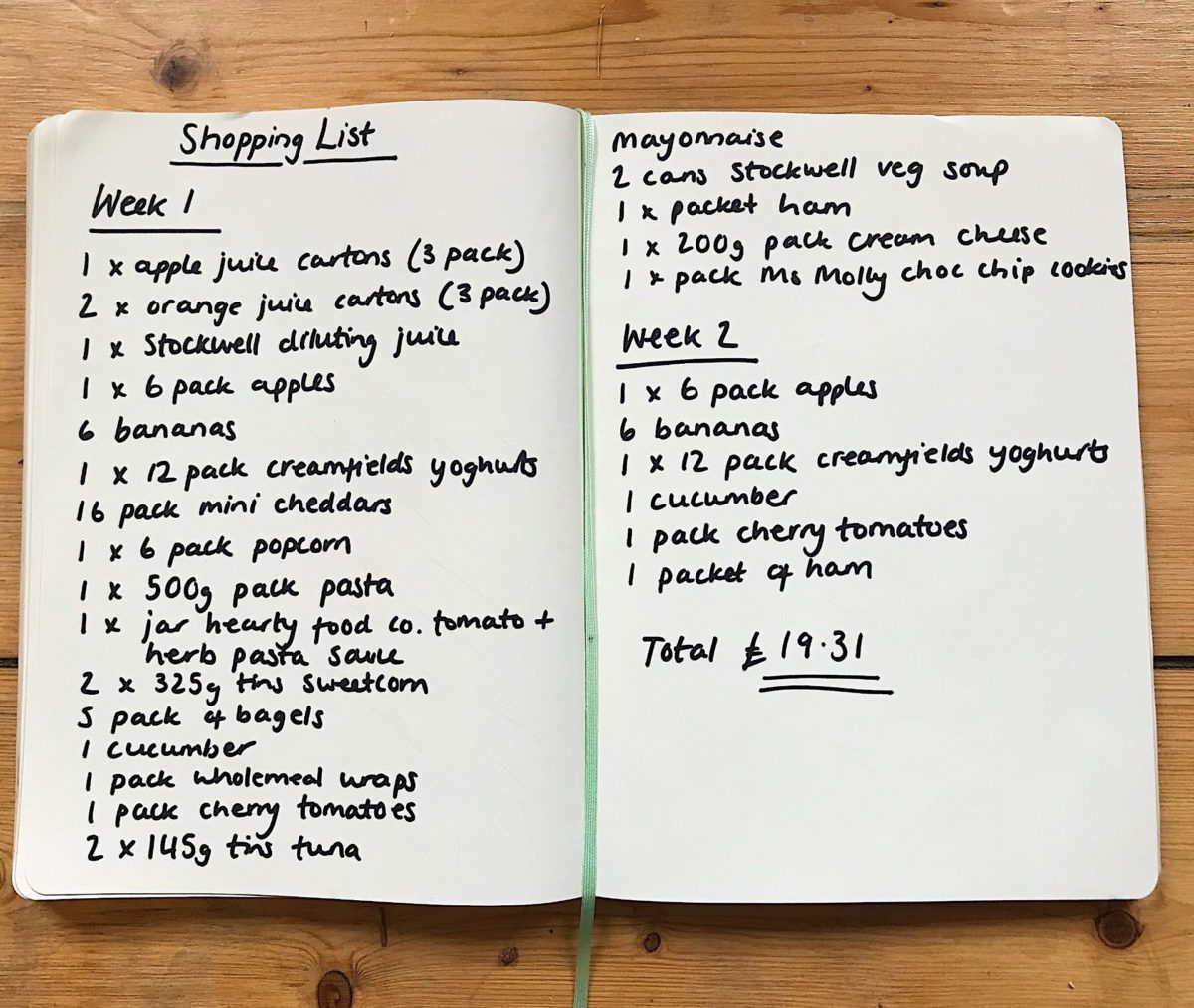 (Based on Tesco prices, whatever is left over you can keep for the next week)
| Week 1 shopping List | Week 2 shopping list |
| --- | --- |
| 1 x apple juice cartons £0.40 (13p per carton) | 1x 6 pack apples £0.73p (12p per apple) |
| 2 x orange juice cartons £0.80 (13p per carton) | 6 bananas £0.78p (13p per banana) |
| 1 x Stockwell diluting juice £0.43p | |
| 1x 6 pack apples £0.73p (12p per apple) | 1 x 12 pack Creamfields fromage frais yoghurts £0.73 (6p per yoghurt) |
| 6 bananas £0.78p (13p per banana) | 1 whole cucumber £0.35p |
| 1 x 12 pack Creamfields fromage frais yoghurts £0.73 (6p per yoghurt) | 1 x pack cherry tomatoes £0.50p |
| 16 pack mini cheddars £2.00 (17p per pack | 1 x packet of ham £0.85p (4 lunches) |
| 1 x 6 pack popcorn £0.99 (17p per pack) | |
| 1 x 500g pack pasta £0.29 | |
| 1 x jar hearty food co. tomato and herb pasta sauce £0.39 (1/4 jar per lunch, 10p per lunch) | |
| 2 x tins growers harvest sweetcorn £0.70 (39p per tin, ½ tin each per lunch) | |
| 5 pack bagels £0.79 (16p per bagel) | |
| 1 whole cucumber £0.35p | |
| 1 x 8 pack wholemeal wraps £0.95p (12p per wrap) | |
| 1 x pack cherry tomatoes £0.50p | |
| 2 x 145g tins tuna £1.58 (79p per tin) | |
| Mayonnaise £0.75p | |
| 2 cans Stockwell vegetable soup £0.48 (1/2 can per child per week at 24p per tin) | |
| 1 x packet of ham £0.85p (4 lunches) | |
| 1 x 200g pack cream cheese £0.49 | |
| 1 x pack ms molly chocolate chip cookies 0.39p (3p per cookie) | |
|  Total for 2 week shopping: £19.31 | |